All SBI clients have access to the Green PIN system, which makes it even easier to create or modify a new ATM PIN. Since the single 4-digit SBI PIN is inserted into all withdrawals, online transactions and POS transactions, all SBI account holders are protected from unauthorized transactions. Current and new account holders of SBI have multiple options in seconds to generate SBI ATM PIN. Account holders can also create SBI credit card PINs using the same method. State Bank of India has launched the Green PIN facility to facilitate its customers' generation of SBI ATM PIN. Account owners can use the SBI Green PIN facility to generate their SBI ATM PIN by themselves. Read here about how an SBI ATM PIN can be created using SMS or an ATM.
SBI ATM PIN GENERATION
To GENERATE SBI ATM Pin you will visit one of the nearest SBI ATMs once you have received your SBI ATM debit card. Follow the following steps to SBI ATM PIN GENERATION through ATM

Insert ATM debit card
Choose the option 'PIN Generation'
Please enter your account number in 11 digits. Enter the same by clicking on the "Confirm" button.
Your mobile number will be requested, entered and press the 'Confirm' button.
If you are correct in your entry, the following screen would show 'Your green PIN will soon be supplied to your registered mobile number.'
To view another message, press 'Confirm,' and you will receive the same message on your mobile number. Your green PIN generation is successful.
You will then receive a one-time PIN (OTP) message on your phone that is nothing else than the Green PIN.
Remove your SBI card and reinsert them and follow the steps to generate the current debit card PIN with the Green PIN.
Insert a card into ATM SBI card
Select 'Banking'
Select language based on available options, either English, Hindi or regional.
Enter the received OTP on your mobile
On the following screen. From the menu 'Select Transaction' select 'PIN Change' option
Enter a new four-digit PIN, and confirm it again.
If it succeeds, you will see a message: "Your PIN is successfully changed"
The new PIN becomes your SBI ATM card's actual PIN and is available for all card transactions including cash withdrawals, retail terminal purchases and online transactions.
Online generation with Internet banking SBI ATM Card PIN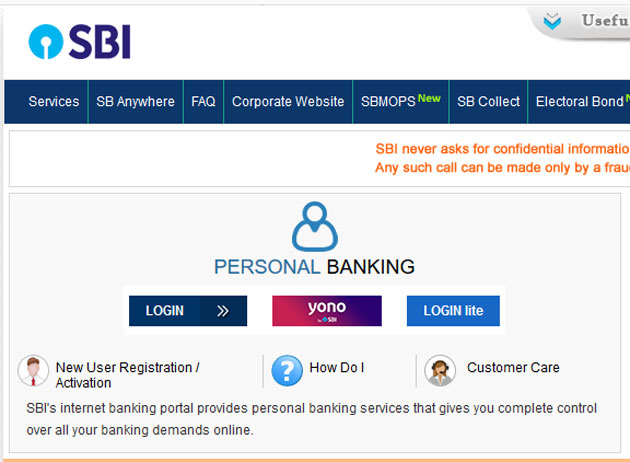 The following are the steps to generate the SBI PIN online via internet banking:
Use credentials to log in to your net banking.
Select Card Pin from the main menu.
On the Debit Card PIN section, click on Generate PIN.
Select the debit card and enter your CVV code 16-digit number,
Type in the grid number printed at the card back and creates OTP.
Enter your registered mobile number and send the four digits OTP you have received.
New PIN type. On your net banking display, your registered mobile number, and your registered email ID, you will receive confirmation with the PIN generation.
How to Generate SBI ATM PIN through SMS?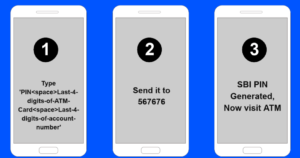 Step 1: send SMS to 567676 via PIN <XXX> <YYYYY>, registered mobile number.
Step 2: here XXXX indicates the SBI ATM card last 4 digits, while YYYY denotes the SBI account number for the last four digits.
Step 3: When the SMS is transmitted, an OTP (One Time Password) will be sent to the account holder who can use the process for SBI PIN generation at the nearest SBI ATM within 2 days.
Also Read: ICICI credit card application status
Calling SBI Customer Care Generates SBI ATM PIN
By calling SBI customer support, customers can also generate an ATM PIN. The following steps are:
Call SBI for customer care free of charge using the registered number.
Select the language of choice and follow the instructions, and choose the options "ATM and Prepaid Card Services."
Choose the Green PIN generation option.
Your debit card number must be entered. Enter and validate the same thing.
Enter, enter, and confirm the account number connected to the debit card.
You will receive the OTP SMS in your registered number after confirming all the details which shall be valid for two days, and during which your debit card PIN can be made available through the nearest SBI ATMs.
State Bank ATM Services:
Networked ATM Services State Bank offers you more than 50,000 ATMs in India, the largest and fastest expanding network in the country! That means it is possible to transact free of charge by using the State Bank card ATM-cum-Debit (Cash Plus), for example SBI Commercial and International Bank Ltd.
Accepted Children of Cards at State Bank ATMs
State Bank ATM-Cum-Debit Card and State Bank International ATM-Cum-Debit Cards are acceptable in State Bank ATMs, in particular with all cards of State Bank of India:
State Bank credit cards
All debits / credit cards emitted by any bank outside of India showing the Maestro, Master Card, Cirrus, VISA and VISA Electron logos
Maestro, Master Card, Cirrus, VISA and VISA Electron logos
All debit/ credit cards emitted by a single bank outside the United States will be accepted by our ATMs.
Conclusion:
Here are the complete details of How to generate SBI ATM pin generation, if you have any questions regarding this please free to ask us in comment section below.