A 12-digit unique identifying number is printed on every Aadhaar card. Every Indian in our country, regardless of age or gender, has an Aadhaar card. It stores biometric and demographic information on the cardholder, such as age, fingerprint, address, and so on. The Unique Identification Authorities of India are in charge of this project (UIDAI). It was established with the goal of providing each Indian citizen with a unique identification number. As a result, each person is readily available for government initiatives and other services.
The major goal of an Aadhaar card, which serves as both an identification and an address verification, is to make it easier for citizens to get subsidies and for the government to keep records more efficiently. This also aids the government in its efforts to stop illegal immigration into India. There can be no more than one Aadhaar card in a person's possession.
Aadhar Card Password
Aadhaar cards are essentially a person's basic information. The name, Aadhaar number, gender, address, enrolment number, date of birth, photograph, and barcode of the Aadhaar number are all included in these details. People place a greater emphasis on the aadhar card, forgetting that it is the number that is the most important. This one-of-a-kind identification number contains all of the person's information. An Aadhaar number is sufficient to provide crucial basic information about a person.
In India, Aadhaar cards are now accepted as proof of identification. It connects to our phone numbers, bank accounts, schools, colleges, and hospital services, among other things. It keeps track of a person's entire life. It is practically used in every aspect of life. Aadhaar cards have a number of uses as well, including:
National identification card
Contact information
Gas connections
Subsidies
Bank accounts
Government-sponsored programmes
Why password is required for Aadhaar Card?
You can get your Aadhaar Card by going to https://eaadhaar.uidai.gov.in/ and following the instructions. You'll notice that the E-Aadhaar is a PDF file once you've downloaded it. This PDF file requires a password to open. This E-Aadhaar PDF file's password is 8 characters long.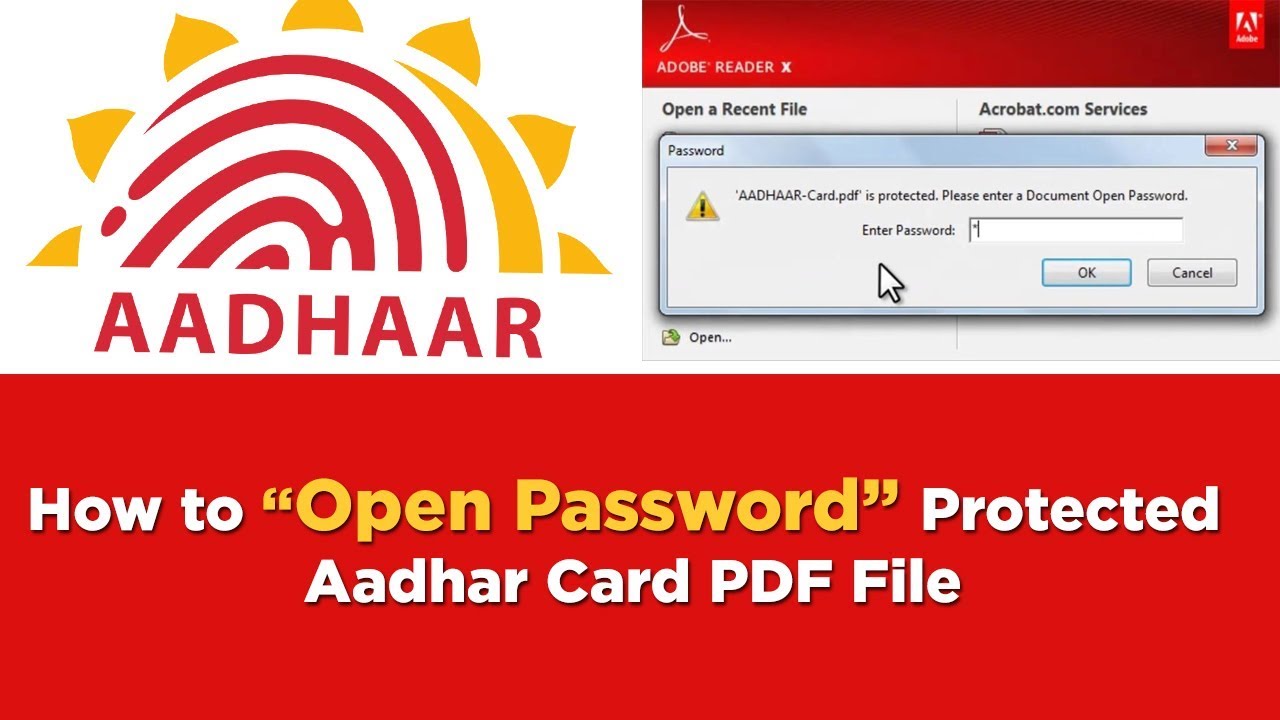 These eight-character passwords are made up of the first four letters of your name in CAPITAL letters (as listed on your Aadhaar card) and your birth year (in YYYY format). The following are the several password variations for an E-Aadhaar card.
How to Download Aadhaar Card:
The Aadhaar card can be downloaded in a few simple steps.
Step 1: Go to the e-Aadhaar official website.
Visit the UIDAI's official website at https://uidai.gov.in/.
Tap on 'My Aadhaar' in the menu bar to bring up a drop-down menu.
Select 'Download Aadhaar' from the menu.
You will be routed to a new page after clicking on the aforementioned choice.
Step 2: Fill in the blanks.
The option 'Aadhaar Number' will be auto-selected on the new page.
Enter the UID number, which is 12 digits long.
Fill in the captcha as shown in the illustration.
Step 3: Verification of the OTP and download
Select OTP to receive a 6-digit OTP to your registered mobile phone.
Enter the OTP to complete the OTP verification.
The page will display the 'Verify And Download' option after a successful OTP verification. To get the Aadhaar file, tap on it.
What is the best way to open the e-Aadhaar PDF file?
You'll see that your e-Aadhaar is in PDF format after you download it. To guarantee security, this PDF file is password protected. To open the file, follow these instructions:
Step 1: To open the file, double-click it.
Step 2: The file will prompt you for your password in a tiny window.
Enter the first four letters of your name in capital letters (as shown on your Aadhaar Card), then the four digits of your birth year (YYYY format).
The following is the format: The digits are referred to as #### in ABCD####.
Here are some examples of e-Aadhaar passwords:
Example 1: The cardholder's name is ARUN KUMAR.
1976 is year of birth.
Then ARUN1976 will be the e-Aadhaar password.
Example 2: The cardholder's name is ALI MONDAL.
1976 is year of birth.
Then ALIM1976 will be the e-Aadhaar password.
Example 3.S.N. SHEKHARAN is the name of the cardholder in
1976 is my year of birth.
The password for e-Aadhaar will be S.N.1976.

Why is it necessary to enter a password?
Passwords are a good approach to keep sensitive items or documents safe.
The Unique Identification Authority of India (UIDAI) uses a password to protect your Aadhaar card online. An e-Aadhaar is important since it protects the PDF file. The Aadhaar card is already secure because it is a PDF file. It is, however, password-protected to increase its security and safety.
Basically, you'll need your name and birth year for this. The first four letters of your name should be capitalised, and the year of your birth should be written in 'YYYYY' format. This is the password for your Aadhar card.
There are a variety of reasons why you might want to download and print your e-Aadhaar copy. You may have misplaced your original copy, or you may simply wish to make an extra original copy to have on hand. You must go to the official website to get your e-Aadhaar.